VIRTUAL Summer Garden Party FUNDRAISER
August 21, 2020

-

August 23, 2020

$75.00 – $125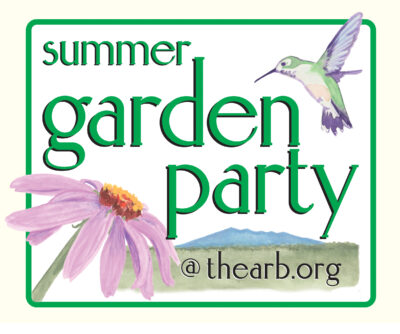 Greetings Friends!
With an armful of excitement, and a perhaps a pinch of giddiness, I wish to invite you to The Arboretum's first-ever, virtual Summer Garden Party fundraiser August 21-23! Over a three-night span, The Summer Garden Party will feature all that The Arboretum does from providing environmental education opportunities to conserving some of the Southwest's rarest plant species and training local citizens in restoration practices. Your ticket price includes access to all three nights of the program and a box of botanically inspired bounty (be sure to check out the VIP package which includes home delivery within Flagstaff zip codes!).
This, our 39th season, has been a trial in trust. Trusting that we made the correct decision to only partially open for the entire season, trusting that people would still come down Woody Mountain Road to visit, and trusting that our community would continue to provide financial support in these desperate times, have proven to be worth the effort and the stress. But there is still such a long way to go and we can't get there without your help and generosity. Please consider purchasing tickets to this new and anticipated event in support of The Arboretum and help us succeed in greeting our 40th anniversary in 2021.
With appreciation and gratitude,
Kristin E. Haskins, Executive Director
Tickets are $75 and include a small box of treats that you can pick up at The Arb on Friday, August 21st.
VIP tickets are $125 and your box will include a little something extra special and will be delivered to your home in the Flagstaff city limits.
We look forward to "seeing" you at our first ever virtual fundraiser!
Summer Garden Party Raffle 1 Ticket
Buy one ticket for $25, or five for $100!
Drawing will be held August 23rd during our Virtual (online) Summer Garden Party!
YOU NEED NOT BE PRESENT TO WIN!
Raffle Prizes!
First Prize:  "Dinner for 8" in your home, Mike Difilippantonio, former Chef of Criollo Latin Kitchen, has committed to provide the dinner for 8 with paired wines.  Minimum 4 courses.  Arranged by Jane Jozoff, Committee Member.
Second Prize:  "Stock Your Bar", includes Desert Rain American Dry Gin, Grand Canyon Bourbon and Blue Clover Vodka, plus mixers and case of Kolsch lager beer from the Mother Road Brewery.
Third Prize:  "Botanical Adventure" with The Arboretum's Research Botanist, includes a Special picnic prepared by David Lapinski, Executive Chef, Pine Canyon, Flagstaff​, soft drinks, sparkling water and special desserts. Date choice coordinated with The Arb staff.
Summer Garden Party Raffle 5 Tickets
Summer Garden Party Raffle 1 Ticket
SILENT AUCTION
Browse over 40 amazing items gifted by our truly amazing patrons and benefactors!