The Arboretum at Flagstaff response to COVID-19 pandemic
Dear Friends,
We hope this message finds you in good health and good spirits! At this time, The Arboretum at Flagstaff is planning to open to the public May 1, 2020. However, all public buildings will remain closed until further notice. This includes the Visitor Center, Horticultural Center and Research Greenhouse, and the public restrooms. Please know that due to the rapid changes in safety practices, our open status could change very quickly. Please check the website frequently, especially before heading out.
Please remember, that as a nonprofit The Arboretum relies on memberships, admissions, ticket sales to events and classes, and private rentals to support our mission. Your donation directly supports our organization's general operations and helps maintain the collection of plants.
Thank you for your continued support!
Kristin Haskins, Ph.D.
Executive Director
The Arb opens for 2020 in...
<!=========list Template 2.3=========>
Honor your mom, sister, daughter or special friend this Mother's Day with the gift of nature!
Find out more »
At 7,150 feet in elevation, The Arboretum at Flagstaff is a unique destination with a unique mission, specializing in plants native to the Colorado Plateau and northern Arizona. The Arboretum is home to 750 species of plants in greenhouses, gardens, and natural habitats–located on 200 acres deep within the Coconino National Forest. Once the home of founder and philanthropist Frances McAllister, The Arboretum today houses horticultural collections and rare plant specimens nestled among historic buildings in a natural setting.
Docent Training
10:00am-4:00pm |May 16th and May 30th
Our new docent training format involves a smaller time commitment upfront but with the same lasting
rewards! Attend an all-day training session at The Arboretum at Flagstaff on either May 16th or May 30th,
shadow an experienced docent for three tours, then get your wings to lead your own tour! Please bring
note taking materials and a brown bag lunch for training day and sign up by e-mailing
Kristin.Haskins@thearb.org with 'docent training' in the subject line. We look forward to working with
you!
We are currently experiencing a hiring freeze – please check back soon for current paid position openings.
Summer Camp Intern
The Arboretum at Flagstaff's Eco-Explorers Summer Camp program is age-specific, place-based, and hands-on. We aim to teach campers about the ecology and natural history of the Colorado Plateau, instill a sense of connection with the natural world, and have fun while we're at it!
Donate to The Arb!
We have many projects, programs, gardens and initiatives worthy of support, some of these are Milkweed for Monarchs, the Penstemon Collection, our Mushroom Garden, Summer Camp Scholarships, Environmental Education, the Youth Climate Summit or simply donate to our greatest needs.  If there is a specific area of our organization that you would like to support, please note when you donate.
Your donations are critical to the success of The Arb!  Thank you for your continued support!
SUPPORT OUR CAUSE. INVEST IN US.
Arizona Gives Day is an annual day of online giving that has raised $17.1 million for Arizona nonprofits since 2013. Help us make a difference. CLICK THE IMAGE BELOW to donate on April 7!
Open May 1 - Oct 31
Wed-Sun 9am-4pm / Mon-Tue by appt.
Admission Fees:

Adults: $10.00

Seniors/Military: $7.00

Youth (ages 4-17): $5.00

Dogs: $3.00/each

Group Rate: $7.00/each (groups of 6 or more)

Under 4 free

Last admission is 3:30 pm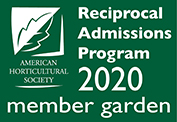 The Arb members get free admission to any of the 330+ gardens listed on The AHS Website. It's a great deal, since our memberships start at $40, while many gardens charge much more!
*This is not a membership to other gardens; only daily admission is reciprocal.
Join the Arb!
By becoming a member of The Arb you help maintain and support our research center, educational and public programs and you receive excellent perks and discounts! Plus your membership may be tax-deductible!
Military and Seniors 65 and over get 10% off any level of membership — please call to place your order.
Summer Camp Sign-ups are Open
Limited Space Available -- Act Soon!
Eco-Explorers Summer Camps are nature-based, experiential, STEAM-centered camps for your young explorer. Camps are available for ages 4-11, with age-specific groups.
Learn More
<!=========Grid View Template 2.3=========>
Host Your Event at the Arb!
Up to 250 guests can enjoy a beautiful natural setting with San Francisco Peaks as the backdrop. Ceremonies, receptions, and rehearsal dinners to make your day incredible.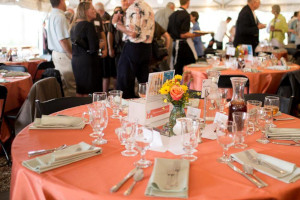 The Arboretum offers your guests the beauty and tranquility of being surrounded by the Coconino National Forest, while still offering modern amenities for comfort.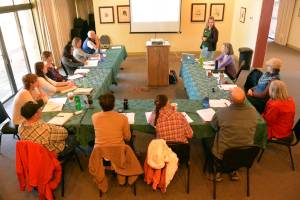 The Walter Reichardt House is the 1960s-era home of Arboretum founder Frances McAllister. It was renovated in 2007, and can now host groups of up to 40 people.
The Arboretum at Flagstaff
4001 S. Woody Mountain Rd. Flagstaff, AZ 86005
Arb featured in Hairy Bikers gourmet road food video!