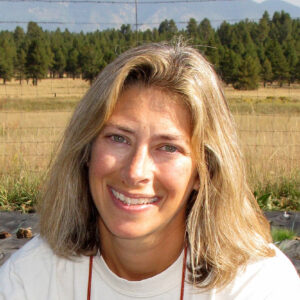 Kristin Haskins, Ph.D.
Executive Director, ext.114
kristin.haskins@thearb.org
Kris started with The Arboretum in 2006 after a three-year post-doc at Northern Arizona University (NAU) working in a mycorrhizal ecology laboratory. After growing up in New Hampshire, Kris moved to Lexington, KY where she completed her B.S. and M.S. in Biology at The University of Kentucky. She then attended NAU for her dissertation work in piñon-juniper ecosystems. Currently, her research interests include conservation ecology of rare plants, restoration ecology and developing native plant materials for re-vegetation. Kris completed co-editing a technical book in 2012 on plant reintroduction entitled, Plant Reintroduction in a Changing Climate: Promises and Perils, with her dear colleague Dr. Joyce Maschinski. Dr. Haskins lives happily with her husband, two boys, two horses, two dogs and twelve chickens. In her rare spare moments, she enjoys horseback riding, reading juicy fiction novels, and playing with her kids. Kristin.Haskins@thearb.org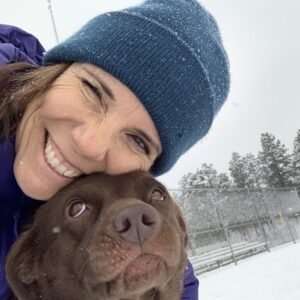 Kirsten Mead
Finance Manager, ext.109
kirsten.mead@thearb.org
Kirsten is virtually a native of Flagstaff, having lived here since she was seven years old.  She graduated from Northern Arizona with a BS in Criminal Justice.  For nearly 10 years Kirsten owned and operated a successful scrapbook/craft store, where she was allowed to expand her creativity and accounting skills.  When her daughter was heading to college, she left the creative world for university accounting, which led to The Arboretum. Kirsten and her husband Don (a true Flagstaff native) have an adult daughter and a menagerie of dogs and cats.  They enjoy hiking around Flagstaff and Sedona, kayaking and paddle-boarding in northern Arizona's waterways and traveling to beach destinations.  Kirsten loves mixed media art and attending art retreats, reading novels, podcasts, hanging out with family and chasing sunsets.
Kirsten.Mead@thearb.org
Sheila Murray
Research Botanist, ext.112
Sheila's main interests are the rare and endangered plants of the Colorado Plateau, and she contributes to The Arboretum's mission by collecting, growing, and studying these native plants. Sheila grew up in the small ghost town of Jerome, AZ and has always had a love of the outdoors. She moved to Flagstaff to pursue a career in the natural sciences, and received her B.A. in Environmental Sciences from Northern Arizona University. She has been on the plant research track at The Arboretum since 2001. When she finds free time, she enjoys river rafting, hiking, cross-country skiing, creating botanical illustrations and indulging in other forms of artwork. Most of her free time activities inevitably include botany in some fashion. Sheila.Murray@thearb.org
Helena Murray
Education Programs Director
helena.murray@thearb.org
Helena came to Flagstaff from Simi Valley, CA to obtain her BS in Environmental Science from Northern Arizona University. While going to school, she worked as an early childhood educator and became passionate about working with children. She is thrilled to combine both of her passions in her role with The Arboretum. She loves the focus on environmental education that The Arboretum provides the Flagstaff community. In her free time, she loves to go on adventures with her husband and two dogs. Helena also enjoys getting into a good book, experimenting with new recipes in the kitchen, and soaking up the sun. Helena.Murray@thearb.org
Cassidy Gale
Horticulturist
cassidy.gale@thearb.org
A native of New England, Cassidy grew up in Massachusetts and the Adirondack Mountains of upstate New York. She attended college in Vermont and multiple international universities; studying a range of subjects from ethnomusicology to environmental sustainability, ultimately receiving a BA in Environmental Studies. She spent many years in New England managing a three generational farm, being lead horticulturist at a premiere garden center, as well as running her own landscape design and installation business focusing on native species. She and her husband landed in northern AZ to begin building on their off grid property several years ago. When she is not growing and researching Colorado Plateau plants, she is usually out exploring and adventuring in the southwest with her husband, dog, and cat.   Cassidy.Gale@thearb.org
Jason Fisher
Grounds/Horticulture Assistant
Jason.Fisher@thearb.org
After graduating college in small town Pennsylvania, Jason first ventured out west for a 6 month season with the conservation corps, but quickly fell in love with the Southwest and found it difficult to leave. Before joining the Arboretum, some of Jason's favorite jobs have been assisting as a field technician for a research ornithologist, working on a biodynamic garlic farm, and serving as an outdoor classroom educator for a school to farm project. He is excited to see the way the Arb joins his passions for research, conservation, gardening, and education all under one roof. Outside of work, Jason loves spending time by the water, exploring new forms of art, and experimenting in the kitchen.
Jamie Paul
Marketing Manager
jamie.paul@thearb.org
Jamie grew up in Sierra Vista, Arizona, south of Tucson, and earned her BS in biology at NAU before venturing off to Houston and the Denver working as teacher, librarian, nanny, and (randomly) a Six Flags Caricature artist before returning to Flagstaff to work at NAU's Cline Library. She comes to the Arb from the Flagstaff Public library and is very excited to support our environmental education, conservation, and research efforts. She has loved plants since her days sword fighting with yuccas, building forts out of yucca stocks, and climbing mesquite trees alongside her brother down in Cochise County. She loves to design things and engage the community through social media, and is looking forward to taking millions of pictures of the plants, animals, and people at the Arb. So, watch out! Jamie lives with her three dogs, three cats and an unusually large goldfish in the cool pine trees, where she hikes and plays in the woods, gardens in a way that the weeds find quite delightful, plays soccer, writes, draws, reads, plays and teaches piano, dabbles in home improvement projects, and runs a little forest day camp.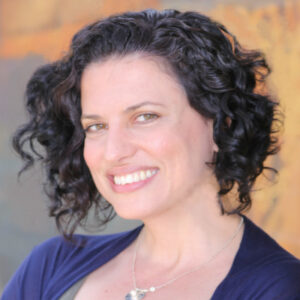 Alexis Holle
Wedding & Banquet Coordinator
alexis.holle@thearb.org
Alexis Holle has lived in Flagstaff since 2000. After graduating from Southern Illinois University with a BFA in Painting, she headed west in search of an artistic and open-minded community in which to raise her then infant son. She found what she was looking for in Flagstaff, and has been an active member of the downtown cultural scene ever since. In addition to her artistic roots, she has extensive experience in the hospitality industry, having worked for several restaurants and catering companies over the years. She was also the owner and proprietor of Sundara, a boutique, art gallery, coffee house and music venue formerly located in downtown Flagstaff, from 2007-2013. Alexis.Holle@thearb.org
CURRENT JOB OPENINGS​
Seasonal positions will be posted as they are available.  Please click on the job descriptions below for details about each job, including duration, hours and seasonality.  
Please submit a resume with references and a letter of interest via e-mail to: Dr. Kristin Haskins, Executive Director, The Arboretum at Flagstaff (kristin.haskins@thearb.org).