Executive Director
Ext. 101
Kris started with The Arboretum in 2006 after a three-year post-doc at Northern Arizona University (NAU) working in a mycorrhizal ecology laboratory. After growing up in New Hampshire, Kris moved to Lexington, KY where she completed her B.S. and M.S. in Biology at The University of Kentucky. She then attended NAU for her dissertation work in piñon-juniper ecosystems. Currently, her research interests include conservation ecology of rare plants, restoration ecology and developing native plant materials for re-vegetation. Kris completed co-editing a technical book in 2012 on plant reintroduction entitled, Plant Reintroduction in a Changing Climate: Promises and Perils, with her dear colleague Dr. Joyce Maschinski. Dr. Haskins lives happily with her husband, two boys, two horses, two dogs and twelve chickens. In her rare spare moments, she enjoys horseback riding, reading juicy fiction novels, and playing with her kids.
Finance Manager
Ext. 102
Kirsten is virtually a native of Flagstaff, having lived here since she was seven years old.  She graduated from Northern Arizona with a BS in Criminal Justice.  For nearly 10 years Kirsten owned and operated a successful scrapbook/craft store, where she was allowed to expand her creativity and accounting skills.  When her daughter was heading to college, she left the creative world for university accounting, which led to The Arboretum. Kirsten and her husband Don (a true Flagstaff native) have an adult daughter and a menagerie of dogs and cats.  They enjoy hiking around Flagstaff and Sedona, kayaking and paddle-boarding in northern Arizona's waterways and traveling to beach destinations.  Kirsten loves mixed media art and attending art retreats, reading novels, podcasts, hanging out with family and chasing sunsets.
Research Botanist
Ext. 106
Sheila's main interests are the rare and endangered plants of the Colorado Plateau, and she contributes to The Arboretum's mission by collecting, growing, and studying these native plants. Sheila grew up in the small ghost town of Jerome, AZ and has always had a love of the outdoors. She moved to Flagstaff to pursue a career in the natural sciences, and received her B.A. in Environmental Sciences from Northern Arizona University. She has been on the plant research track at The Arboretum since 2001. When she finds free time, she enjoys river rafting, hiking, cross-country skiing, creating botanical illustrations and indulging in other forms of artwork. Most of her free time activities inevitably include botany in some fashion. Sheila.Murray@thearb.org
Education Programs Director
Ext. 103
Helena came to Flagstaff from Simi Valley, CA to obtain her BS in Environmental Science from Northern Arizona University. While going to school, she worked as an early childhood educator and became passionate about working with children. She is thrilled to combine both of her passions in her role with The Arboretum. She loves the focus on environmental education that
The Arboretum provides the Flagstaff community. In her free time, she loves to go on adventures with her husband and two dogs. Helena also enjoys getting into a good book, experimenting with new recipes in the kitchen, and soaking up the sun.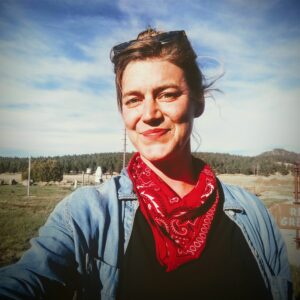 Horticulturist
Cassidy.Gale@thearb.org




Ext. 105
Cassidy is a native New Englander. She grew up in Massachusetts and the Adirondack Mountains of upstate New York. She attended college in Vermont and several other international universities, studying a range of subjects from ethnomusicology to environmental sustainability. Cassidy ultimately received a BA in Environmental Studies. She spent many years in New England on a three generation farm, as lead horticulturist at a premiere garden center, and running her own landscape design and installation business focused on native species. She and her husband landed in Northern AZ to begin building on their off grid property several years ago. When she is not growing and researching Colorado Plateau plants, she is usually out exploring and adventuring in the southwest with her husband, her dog, and her cat.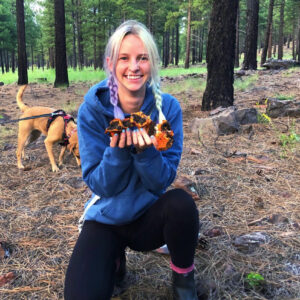 Horticulture Assistant
Ext. 107
Delaney came to Flagstaff from San Diego, California. She earned her Bachelors of Science in Fisheries and Wildlife Sciences through Oregon State University. She has a love for wildlife, plants, and everything nature-related! When she is not at work, she is most likely out adventuring with her dog.
Marketing & Events Manager
Ext. 104
Jamie grew up in Sierra Vista, Arizona, south of Tucson, and earned her BS in biology at NAU before venturing off to Houston and Denver working as teacher, librarian, nanny, and (randomly) a Six Flags Caricature artist before returning to Flagstaff to work at NAU's Cline Library. She comes to the Arb from the Flagstaff Public Library and is very excited to support our environmental education, conservation, and research efforts. She has loved plants since her days sword fighting with yuccas, building forts out of yucca stalks, and climbing mesquite trees alongside her brother down in Cochise County. She loves to design things and engage the community through social media, and is looking forward to taking millions of pictures of the plants, animals, and people at the Arb. So, watch out!
Jamie lives with her two dogs, three cats and assorted fish in the cool pines, where she hikes and plays in the woods, gardens in a way that the weeds find quite delightful, plays soccer, writes, draws, reads, plays and teaches piano, dabbles in home improvement projects, and co-directs a little nonprofit called Montessori Forest Adventurers hosting forest enrichment activities for kids.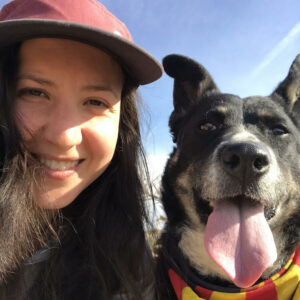 Horticulture Assistant
Ext. 107
Gina has been in Flagstaff since 2008 when she obtained her Masters Degree in Applied Environmental Communication.
Her educational focus is on human's relationship with the natural world, and she finds herself often pondering all the ways in which we can help this place we call home.
She has a deep love and appreciation for the Colorado Plateau landscape and a perpetual curiosity about all the plants that grow in such a temperamental environment. When she is not working with the plants in the greenhouses she can be found out in the wild with her dog, Ruca.
Coordinator: Visitor Center, Membership and Facility Rentals 
Bren Sessions moved to Arizona from Idaho in 1996. Then another move from the too-hot and too-many people valley brought her home to Flagstaff along with her husband, son and daughter in 2007.
She worked as a customer service supervisor for USPS, owned an Orange Julius store, worked as a territory rep for Hallmark in Northern Arizona, and joined the technical services team at the Flagstaff Public Library. She joined The Arb in 2021, and fell in love with both the place and the mission. When not at work, she can be found at home with her 2 dogs, 2 parrots and 1 cat, all of whom are not always happy with the foster pets that occasionally share their space.
Grounds Supervisor 
Cara is a native of New England. She moved west a decade ago to pursue her love of mountains and wild places. She holds a B.S. in Environmental Conservation and Sustainability, and has worked in land management for 8 years while developing her interdisciplinary skills in botany and recreational land use. She has spent most of her free time since landing here in Flagstaff a few years ago building a tiny-home with her partner. She loves traveling, paddle boarding, and plants (of course!). 
Wedding & Banquet Coordinator
Alexis Holle has lived in Flagstaff since 2000. After graduating from Southern Illinois University with a BFA in Painting, she headed west in search of an artistic and open-minded community in which to raise her then infant son. She found what she was looking for in Flagstaff, and has been an active member of the downtown cultural scene ever since. In addition to her artistic roots, she has extensive experience in the hospitality industry, having worked for several restaurants and catering companies over the years. She was also the owner and proprietor of Sundara, a boutique, art gallery, coffee house and music venue formerly located in downtown Flagstaff, from 2007-2013.
The Arboretum at Flagstaff seeks a visionary Executive Director to successfully lead and manage the organization according to the strategic direction developed in conjunction with the Board of Directors.
The Executive Director will have direct oversight and responsibility for The Arboretum's administrative and programmatic functions, including oversight of senior staff members. The ideal candidate would have relevant non-profit experience and skillsets, including fundraising, building and managing donor networks, community outreach, team building, and business management.
Please read the full job description by clicking the button above.
To apply, send a resume, cover letter and a minimum of three references (with email and phone numbers) to: ArbExecutiveDirector2022@gmail.com. Applications will be reviewed beginning on October 11, 2021.
The Arboretum at Flagstaff seeks a finance manager.
This position is responsible for management and oversight of all financial aspects at The Arboretum at Flagstaff.  This position works closely with the Executive Director to ensure the financial health of the organization. This includes but is not limited to: management of the Visitor's Center & Rental Manager, financial reporting to the Board of Directors and Executive Director, accounts payable and accounts receivable, and payroll.
Salary: $43,000 – $45,000 / year
Benefits: paid vacation and sick time as well as paid holidays and flexible scheduling.
Position open until filled. 
To apply, send a resume, cover letter and a minimum of three references (with email and phone numbers) to: Kristin.Haskins@thearb.org.